▲ Top
▼ Bottom
△ TOC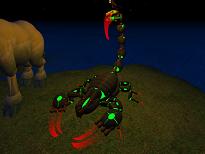 1024 x 768 - 692 KB
3/11/2008 5:15:50 AM


As of October 22, 2008, 9:09 PM EDT, the sun has begun its transit of Scorpio. So, here's another screenshot I took last March in Second Life at a fantastic exhibit of prim sculptures by Madcow Cosmos.

This is a prim sculpture of Scorpio, the sign of the scorpion (with part of Taurus, the bull, visible to the left of it).

You can visit the shop of the artist, Madcow Cosmos, at the Lie sim.

---