▲ Top
▼ Bottom
△ TOC
This morning at about 8:30 AM, I registered to participate in Blog Action Day, which will happen October 15th, 2012.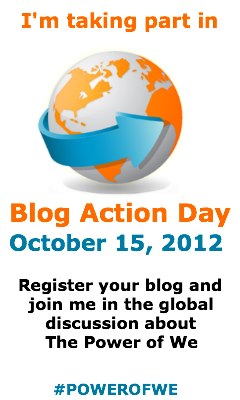 You can register at: http://blogactionday.org/register-to-take-part/
The theme this year is The Power of We. A nice, broad theme which should make it possible to write about just about any world issue(s) you might want to write about.
According to http://blogactionday.org/2012/09/17/instructions-to-access-greenpeace-photo-and-video-archive-for-blog-action-day-participants/:
To celebrate the "power of we", Greenpeace is for the first time opening up our entire visual archive for free to the global blogging community for Blog Action Day – over 150,000 photos and videos.
---